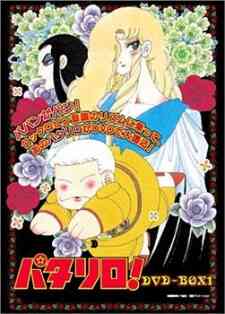 Patarillo! is set in a society much like ours in most ways, with one decided twist. The manga on which it is based is one of the much-read works produced for adolescent Japanese girls that features a healthy proportion of gay men and beautiful teenagers aka bishounen (beautiful boys). Most of the action takes place in Marinera, the land of eternal spring, located somewhere in the South Seas. The country is a major producer of diamonds; they provide much of the basis of conflict in the anime series. They come from one of the most prolific mines in the world, owned by the king of Marinera, the vertically challenged but horizontally endowed boy-king Patarillo himself. The International Diamond Syndicate - a huge semi- criminal organization/ secret society dedicated to taking over the world`s entire diamond supply- wants that mine and will stop at nothing to get it. In the early episodes they send off a number of bishounen assassins to do in Patarillo, which necessitates his having a bodyguard, the English MI6 agent, Major Jack (`Bishounen-Killer`) Bancoran. Bancoran`s nickname doesn`t mean he shoots bishounen in cold blood. The soubriquet comes from the fact that no male under the age of 17 can resist his sexual fascination. This, to Bancoran`s eternal disgust, includes Patarillo himself. The action switches often from Marinera to MI6 headquarters in London (London seems to be an easy two hour`s flight from the South Seas) or Bancoran`s palatial condo in the suburbs of same. (MI6, be it noted, looks a lot like Fritz Lang`s Metropolis, while Jack`s `apartment` bears a passing resemblance to Randolph Hearst`s spread.) The action also goes into the past and future and out into space. Patarillo evidently gets around.
Episode your are watching right now anime online of Patalliro Ep
039
.
Next episode to watch anime online of Patalliro is
040
.
Previous episode of Anime you are watching online of Show Patalliro is
038
.
Comment
Anime
Episode

039
Rules
Flagging

- If you see anyone violating the rules, please use the report button ("mark as inappropriate"). Disliking an opinion is not a valid reason for flagging.

Spoilers

- Do not post them! It doesn't matter if someone asked for them, or not - it will still result in a warning and/or a ban. Comments containing intentional and unprovoked spoilers (posts like "X is the Beast Titan" "X is Y's brother") that are clearly not theories or guesses will result in an instant ban.

- Pointless text/text that can be identifiable as spoliers such as "Everyone dies" or "Han shot first!" is not allowed. We are not Meme Central nor do we want to be.

- If you want to discuss future episodes, we have a channel dedicated to spoilers on our Discord.

Stay On Topic!

- One way or another, keep comments related to the anime at hand or about 123animes in general.

Flaming / Swearing

- While swearing is allowed (unless really excessive), do not direct it at other users. In any way, do not start or participate in any flame wars. Flag comments violating this rule and we will deal with them accordingly.

Self-Promoting / Advertising

- While it is okay to mention other anime/manga websites, do not deliberately advertise them.

- These types of Youtube videos will not be tolerated:

Non anime related

"Anime Rant" videos will be removed since we have no way of confirm whether it's for self-promoting or no.

- Also, comments are not an advertising board!

Comments containing just links with no text will usually be removed, unless they're an answer to another comment.

Any links leading to viruses/phishing sites/etc are forbidden.

NSFW

- NSFW images are restricted for NSFW anime. If the anime you are on is not NSFW, then NSFW is not allowed. NSFW in this case, refers to ecchi. No hentai is allowed in any case.

Profile Pictures

- Comments made by users with NSFW profile pictures may be removed, depending on the contents of the picture. Slight ecchi/fanservice is allowed but hentai is not.

Posting Pictures

- Limit comments to a maximum of 3 images or less.

- Memes are allowed to the extent of:

They are on-topic and relevant(Anime related).
They do not spoil anything in the current or future episodes.
They do not contain questionable content (ex: Hentai)

Most Importantly: Use Common Sense!

- If you think you'll get in trouble for what you're about to do, don't do it.

Moderation

- A moderator's verdict is final and arguing with them will only cause further punishment.